Tiny Trixies dance classes are fun and interactive sessions for all children aged between 14 months (must be walking) and 3.5 years.
Our sessions run as follows during term time:
Tuesday Tiny Trixies: 11.15am – 12pm at St Mary Magdalene Church Hall, Great Burstead
Friday Tiny Trixies: 9.45am – 10.30am at St Mary Magdalene Church Hall, Great Burstead (Running until 19th July before breaking for Summer)
Friday Trixies: 10.30am – 11.15am at St Mary Magdalene Church Hall, Great Burstead
Saturday Tiny Trixies: 8.30am – 9.15am at Rawreth Village Hall (3 in 4 Saturdays)
Details on all of our locations can be found here
In these sessions, we use a variety of props and familiar music to engage the children and parents/carers are encouraged to get involved as well!
Tiny Trixies promotes and teaches:
Rhythm
Coordination
Dance moves
Counting
Spatial awareness
Social skills
Teamwork
Listening skills
Following instructions
Please do contact us to register your interest or book a space at any of the classes mentioned above- you download and complete a Tiny Trixies registration form in advance to make things easier on the day or complete a form by downloading our Dance Trix app.
Trixies is our class for our students who have moved from Tiny Trixies because of their age and/or experience. This is the first step to attending a dance class independently of their grown ups, whilst maintaining our relaxed atmosphere that caters for the need of our toddlers and younger students.
Details of term dates and fees for classes are shown in the table below (for Fridays). If you are a new student, please contact us for pro-rata term fee prices.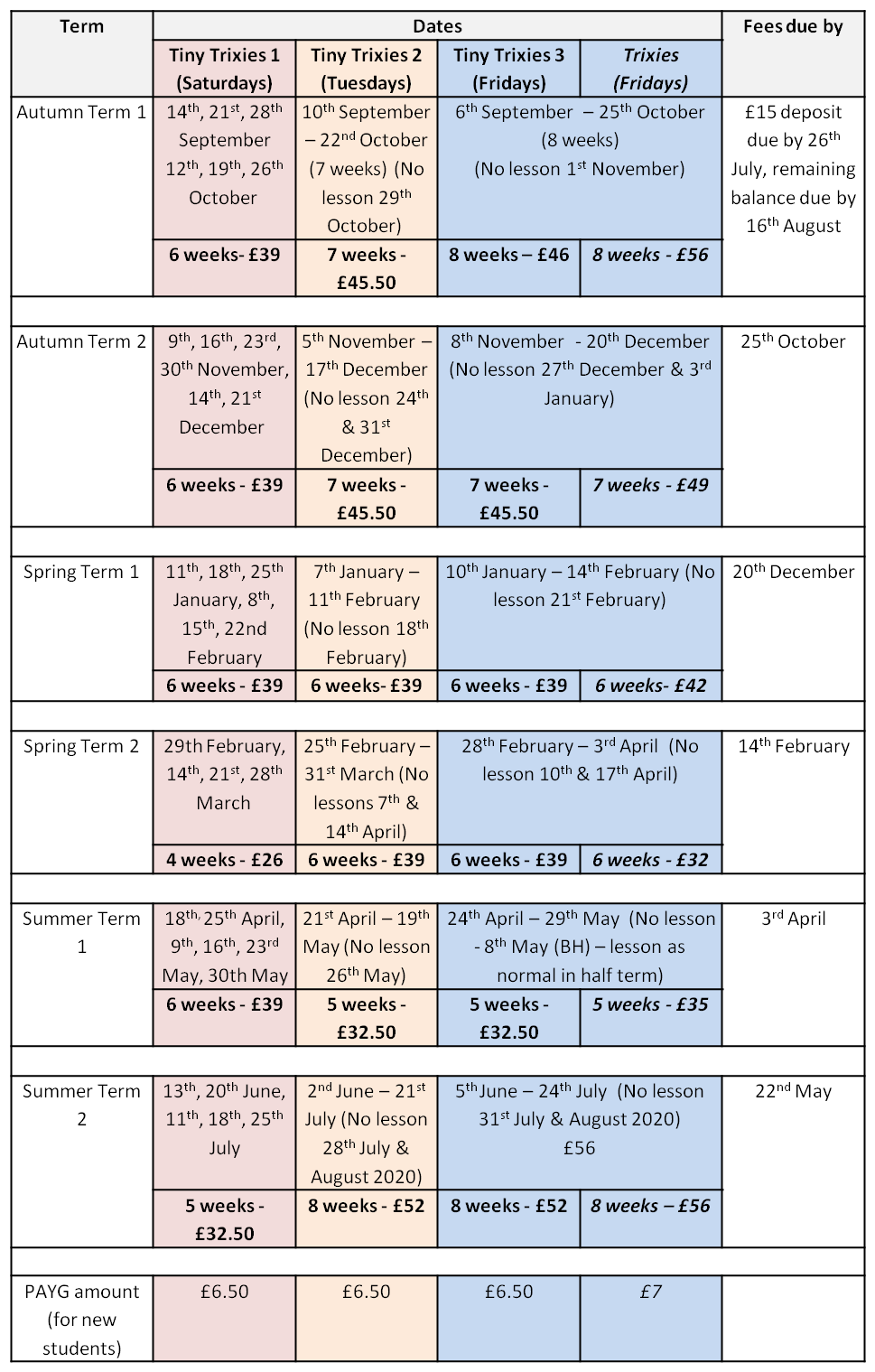 There are no regular classes throughout August 2020 but we shall be hosting some workshops instead- please visit our Facebook page for more information- search and like @dancetrixessex