Our Saturday classes for children are fun and friendly sessions covering a range of dance styles including ballet, tap, jazz and modern dance. These classes are run at South Hanningfield Village Hall.
Our Yellow Group classes are suitable for children aged 3 to 5 years and run 10.15am – 11am.
Our Purple Group classes are suitable for children aged 6 to 8 years and run 11am-12pm.
Please contact us if you would like to come along so we can confirm if a space is available. It's also useful to complete a Dance Trix Children's Registration Sheet in advance as it saves time on the day!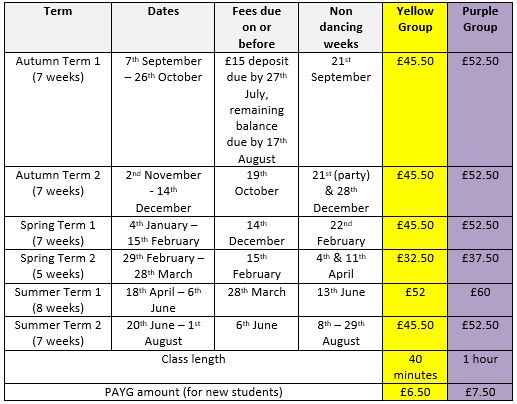 *For new students, the first class is always free of charge and they are then eligible for up to 3 pay as you go classes before half termly payments apply (PAYG rates are all listed in the below table).
Please note that half termly fees are due on or before the last class in the previous block (or 2 weeks before the start of term in September) all as outlined in the table above. All late payments will incur a 10% late fee and unfortunately students will be unable to attend classes until this fee has been settled. Unfortunately, once paid, all term fees are non-refundable.