As of September 2018, we have been offering a combined Hip Hop and Lyrical class for our dancers!
Hip hop is an energetic style of dance originating in the USA. Using elements of street and break dancing, students are encouraged to express their own individual personality.
Lyrical is a more expressive form of dance with fluid movements, inspired by elements of ballet and jazz.
These are at Little Burstead Village Hall (Laindon Common Rd, Little Burstead, Billericay CM12 9TJ) on a Friday evening.
4pm – 5pm: 5 – 8 year olds
5pm-6pm: 9 years and over
Please note that students wishing to attend these classes, should be attending ballet and jazz classes either with us or at another dance school.
Details of term dates and fees are shown in the table below.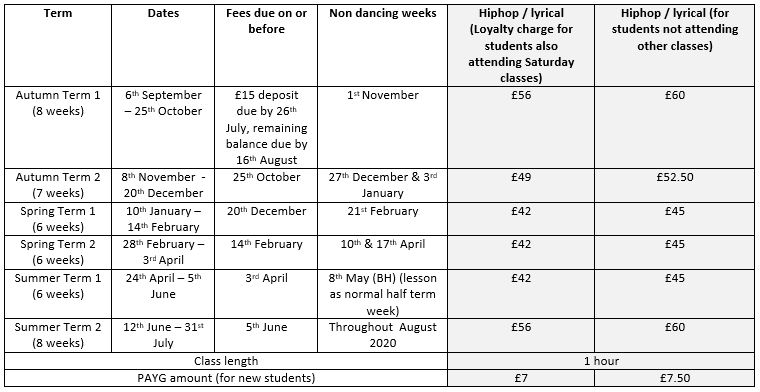 Please email dancetrix@yahoo.co.uk to express your interest in these classes.
Please note that after the 3 week pay-as-you-go period, all term fees are due as above and unfortunately, once paid, are non-refundable.